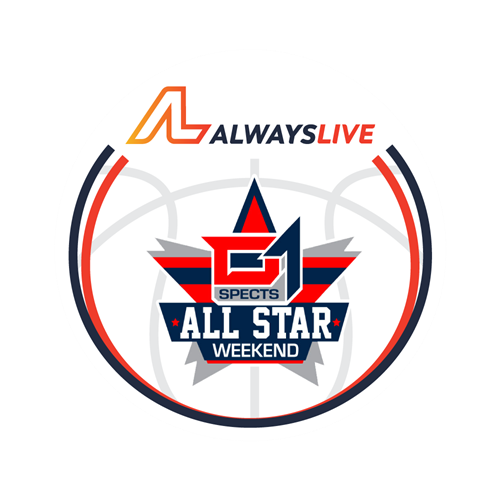 August 16 - August 18, 2019
Powder Springs, GA
Boys & Girls
PLAYER REGISTRATION ALL AGES – PLEASE CLICK HERE
DESCRIPTION
It's almost time! After a fantastic summer season, D1Spects would like to reward these individual players for their hard work this season. Its tough to play a grueling three day weekend schedule, and perform at a high level on championship Sunday–But the best did it. Last year's D1Spects All-Star Weekend was CRAZY, and this year the event is expected to be even large!
The top players across the globe are coming to Atlanta for a weekend full of fun, and excitement From the Slam Dunk Contest to the Games , D1Spects brings light into All-Star Weekend. Make sure you guys vote for our player of the year, team of the year, and come out and join us. To register for the event please make sure your name is on the Eligible player list, for more information email info@D1Spects.com
Players receive the following:
Slot reservation for 2018 Event
Player Uniform (Top/Bottom)

Event T-Shirt

Event Bag

Participation in All Skill Contest (1)

Player Profile Picture
2019 Player Profile Picture
2018 All Star Uniform
EVENT INFORMATION
All Star Uniform Pick-up @ Host Hotel (TBA) – 6-10pm Friday.

Please bring a copy of your receipt to registration. Players who register before the deadline will be guaranteed an All Star Uniform. We will try to get as close to the size as possible.
2. Admission: Admission is $15 per Saturday $15 Sunday or you may purchase a weekend pass for $25.00. Children under 6 are free.
3. Uniform: Please wear your Travel Team/AAUUniform on Saturday August 18
4. Team Assignments August 6
5. ALL ACTIVITIES ARE AT MAYNARD JACKSON!!
6. Venue: Maynard Jackson High School 801 Glenwood Ave , Atlanta , GA 30312
FRIDAY , AUGUST 17 – HOST HOTEL TBA- PRE-REGISTRATION – 6:30 -9:00PM
SATURDAY, AUGUST 18
8am – 11:00am Registration – Maynard Jackson HS
11:00 am – 12:00 AM Opening Ceremonies . (PLEASE WEAR YOUR AAU UNIFORM)
Player , Coach , Team and Program of the Year Awards (Recipients will receive trophies . Nominations close Aug 1.
MVP VOTING COMING SOON –
12:00 AM – 12:15PM . – MEET THE COACH
11:30 -12 PM LUNCH
2pm – 2:30pm Parents Educational Seminar
SCHEDULE NOW POSTED –FIRST ROUND ALL STAR GAMES – 12:30PM – 7:30PM . (ALL TEAMS)
SUNDAY , AUGUST 19
ALL STAR SKILLS COMPETITION
9:00 AM- 11:00 AM 1ST -5th GRADE BOYS/GIRLS
11:05AM – 1:00 PM 6TH – 11TH GRADE BOYS/GIRLS
CHAMPIONSHIP SUNDAY – (ALL TEAMS )
– Schedule will be published via tourney machine. Game MVP will receive a Banner
Lunch
Lunch will be available at the concession stand
D1Spects Travel
***********
If you made a D1spects All Tournament Team and your name is not listed …Please contact Harold Thompson 404-454-2919
EVENT REGISTRATION
Please complete this form in its entirety to register for the ALWAYSLIVE : 11th ANNUAL D1 ALLSTAR WEEKEND